How do I know if my problem is caused by a firewall?
If you have been experiencing difficulty playing or unlocking WildTangent games, it may be because the firewall software is blocking access to the Internet, which our games need in order to run or unlock properly. This can take the form of a "Cannot Connect to Server" error, a message from your specific firewall, or perhaps just an "invalid key" error message when unlocking a game.
A firewall is a software program, or piece of hardware, that helps screen out unwanted "visitors" that try to reach your computer over the Internet. You can think of it like the traffic cop; monitoring who comes in and who goes out.
Usually a firewall is invisible to you because it protects the computer while allowing you free access to the Internet. However, there are times when a firewall can prevent games from connecting to the Internet properly.
You can have a firewall active on the PC, and even the router, modem, or Wi-Fi router in your home.
The quickest way to resolving any issue you are having is to configure the firewall software. Be sure to configure them all.
Because many firewalls continue to block data even when they are disabled, DO NOT TURN it OFF or "disable" it. We can't stress that enough. Firewalls and security software are good. Turning it off = bad.
To resolve this issue you are experiencing, you need to ALLOW WildTangent. Read below about configuring the firewall(s) so that you can get back to playing.
How do I configure my firewall to allow my games to play?
The "best" first step is to consult the documentation for the specific firewall program in order to add WildTangent (and specific game files) by "creating an exception" or "adding a trusted program" so that the firewall will allow it through.
One of the most common firewalls in use today? The Windows Firewall
You can find out more about Windows Firewall and how to configure it on the Microsoft Support site.
If you are using Windows 10 - the Microsoft Support Site has step by step instructions on how to add programs to your allowed list on the Windows Firewall. It will, inevitably, look like this: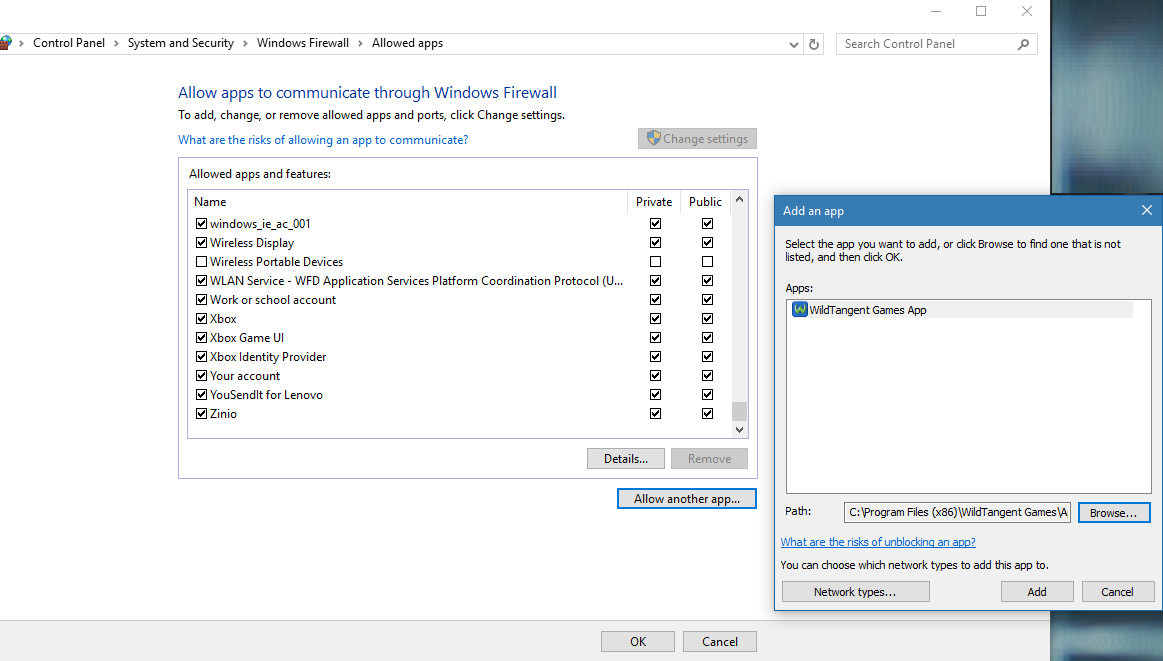 Please Note: Due to the sheer amount of firewalls available today, it is not possible for us to detail how to configure each of them. You will need to contact the developer of your firewall for specific help in getting it configured properly.