Plants Vs Zombies error message
If you're getting an error message reading "Error User File is Wrong Size" or "Invalid File Version" or "File Too Short" when trying to play the game Plants Vs Zombies, this means that the save data for the game (where your game progress is stored) has become corrupted.
This prevents the game from launching and will give you this (or similar) error messages.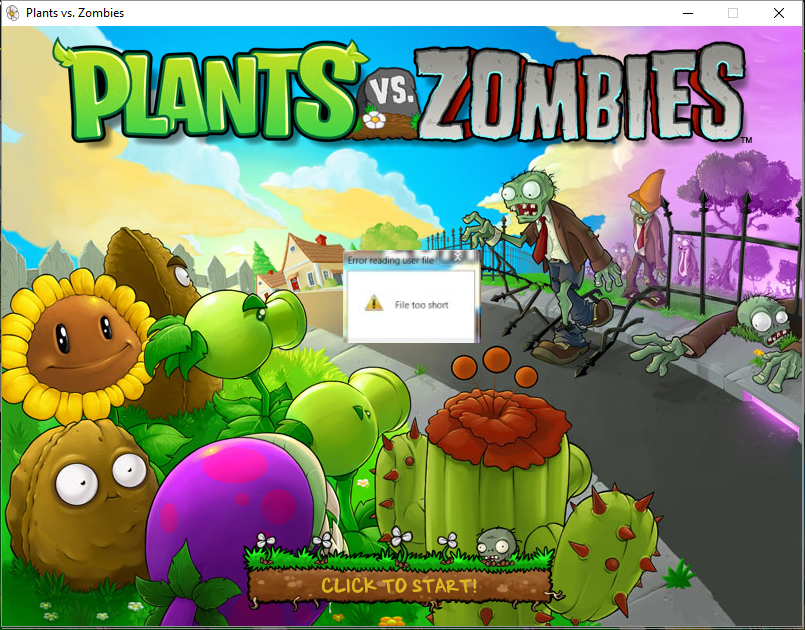 How do I resolve this?
To fix this, you will need to delete the corrupted save data files. While this means you will be deleting your game progress, you will be able to start fresh using your new experience to get even better scores!
Where are the save data files?
This will vary depending on the Windows Operating System you are running
Windows 7, 8, 8.1
C:\ProgramData\Wild Tangent\Plants vs. Zombies\userdata
Windows 10
C:\ProgramData\Wild Tangent\PlantsVsZombies\userdata
Once you have located the folder, you will want to RIGHT click on it and then select DELETE. Now you can RIGHT click on the Recycle Bin, and select "EMPTY RECYCLE BIN". With those steps done, you just need to reboot your computer.
That's it! Now you shouldn't have any trouble playing the game.

I can't find those folders!
This means they are "hidden", if you have Windows 10 the files will be hidden by default. You will just need to grant access to view them.
Click the Start Menu
Select File Explorer.
At the top of the window, select the View

Check the box for Hidden Items.

Open the ProgramData

Please note: This folder's icon should appear faded, indicating that it is a hidden folder. If you don't see the ProgramData folder, please make sure the option Show hidden files and folders is enabled as described in steps 1 – 3. If you still cannot see it? This link to Microsoft has the steps for viewing hidden files here.